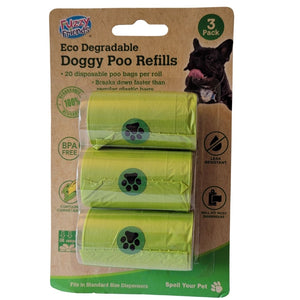 Biodegradable Dog Poop Bags 3 Rolls
GST & Australian Shipping Inc.
---
---
Biodegradable Dog Poop Bags
You are a responsible dog owner and want to make sure you can easily and quickly remove any poop that your dog may leave behind when you are out and about.
These bags are thick and generous in size to ensure no breakage and limited odour. They are also cornstarch-based so they are biodegradable.
These large dog poo bags are made from cornstarch so they compost. They are even on a recyclable cardboard roll. There are 20 bags per roll.
Usually delivered within 1-1.5 weeks.
Want to keep dog poo at an arms length? Get a dog pooper scooper here.
---
We Also Recommend